History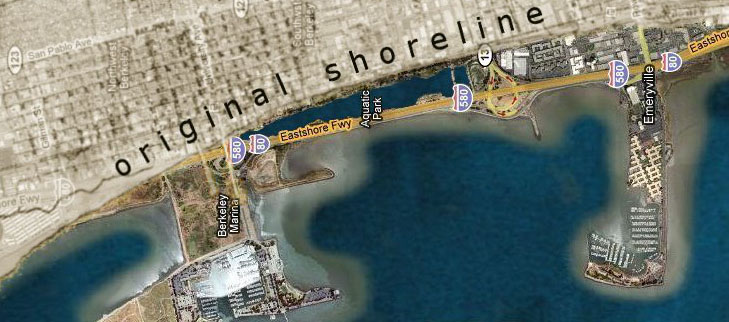 The Club
The Berkeley Paddling and Rowing Club (BPRC), aka Berkeley Rowing Club, Inc. was formed in 1968. The club's colors are royal blue and white.
Formally affiliated with the National Association of Amateur Oarsmen and National Women's Rowing Association (and currently a member of USRowing), BPRC has, since its inception, been a member in good standing of the governing bodies of both sports.
BPRC membership is open everyone and all interested parties (youth under the age of 18 must be accompanied by a parent or legal guardian) may join the Club.
The Site
From City of Berkeley, Parks Recreation & Waterfront, Aquatic Park – History:
"Aquatic Park was constructed between 1935 and 1937 by the Works Progress Administration (WPA). It was built as part of the Berkeley Waterfront Project along with the construction of the [Eastshore Highway] and Yacht Harbor. Tide gates were constructed to help keep the water level constant in Aquatic Park Lake. A citywide celebration entitled 'Pageant of the Land and Sea' was held on May 7, 1937, to formally dedicate the park for public use."
What was dug out to create the lagoon, was dumped to the west to create the platform for the Eastshore Highway in conjunction with the construction of the San Francisco-Oakland Bay Bridge approaches. The Southern Pacific rail line still traces the original Berkeley shoreline east of Aquatic Park.
The park enjoyed its heyday through the 1940s, but fell into disuse and disrepair. In the late 1950s/early 1960s, a civic group made efforts to revitalize the park. Among their leaders was a remarkable woman – Margaret Calder Hayes – who spearheaded the creation of the boathouse using temporary school building (note the chalkboard still intact at the back wall!).
Born Margaret "Peggy" Calder in Paris, France in 1896. Her parent's were Alexander Stirling Calder, the famous American sculptor, son of Alexander Milne Calder, also a sculptor, and Nanette Lederer Calder, a painter of some renown. Her younger brother was the painter/sculptor Alexander (Sandy) Calder, well-known for his wire creations, mobiles, and 'stabile' sculptures.
She married Kenneth A. Hayes (our boathouse's namesake), raised two sons, Calder and Kenneth, and was active in many community endeavors throughout California.
She was instrumental in the development of the UC Berkeley Art Museum and conducted art classes for children in her home for some 18 years. In her 80s, she put down her memories of her father, grandfather, and brother in Three Alexander Calders: A family memoir. She died in Berkeley in 1988.